FREAKS UNCENSORED!
A HUMAN SIDESHOW
NOW ON AVAILABLE ON DVD
$13.99
FREE SHIPPING USA
SORRY. NOT AVAILABLE FOR FOREIGN SALES!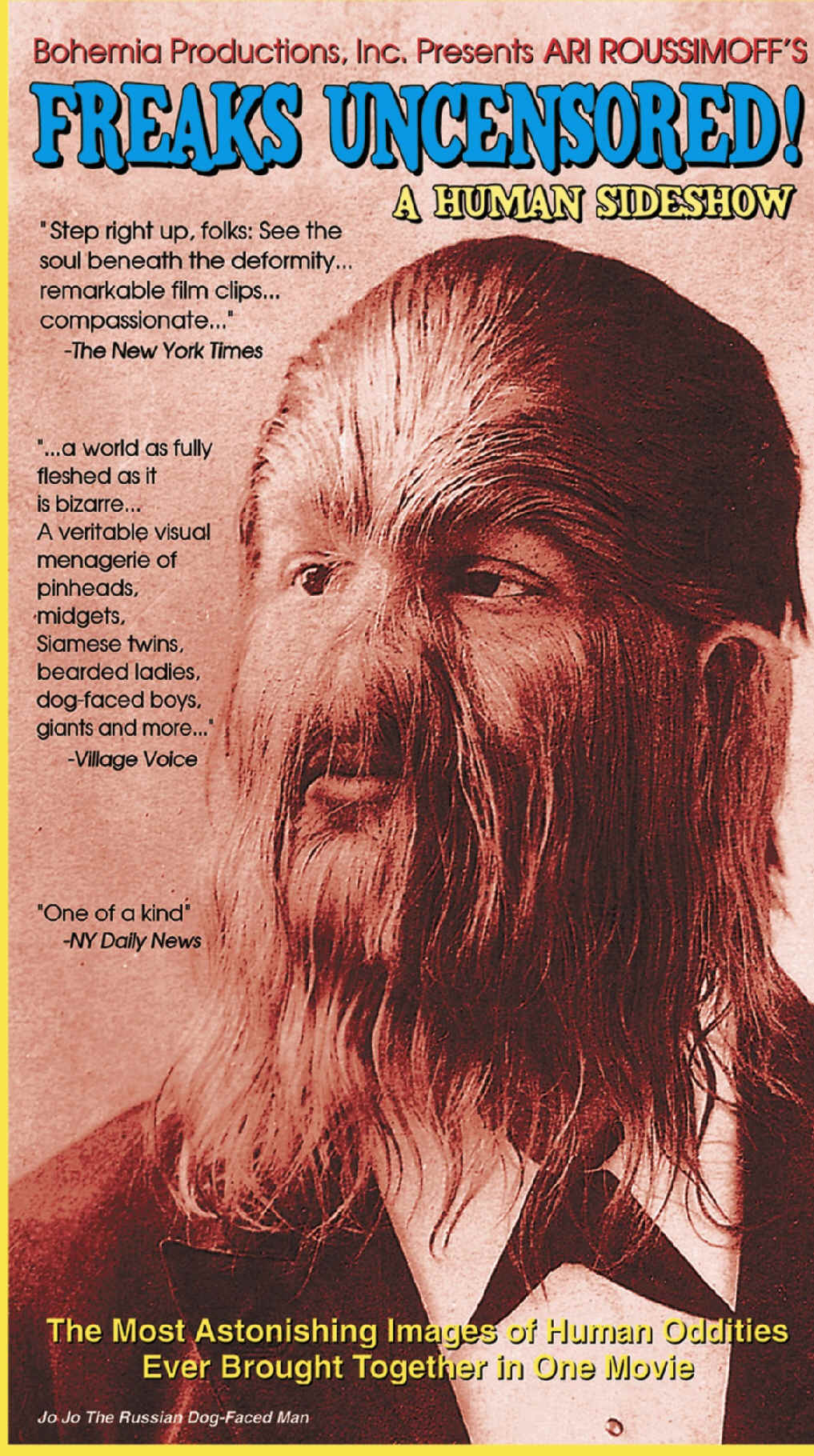 Cast & Credits:
1998 Bohemia Productions (100 Minutes, Color & Black and White)
Directed by Ari Roussimoff
Written by Vivian Forlander & Ari Roussimoff
Produced by Vivian Forlander
Associate Producer: E. Lieber
Editors: Ari Roussimoff, Anthony Arcidi
Sound Design: Stephanie Dedalus
Music by John Watts
Cast: (live appearances)
Jeannie Tomaini (legendary Ringling Brothers legless half-lady)
Jack Dracula (famous Tattooed Wonder, immortalized in a photo by Diane Arbus)
David F. Friedman (Carnival Showman, Exploitation Film Producer, Historian)
Jennifer Miller (Bearded Lady, founder of Circus Amok)
James Taylor (Sideshow Author & Publisher)
And others.
Appearing via ultra-rare historical film footage & photographic materials:
Carl Unthan (Most Famous Armless Comedic Performer of All Times)
Johnny Eck (Legless Wonder & Acrobat. Co-Star of ?Freaks?)
Jack Earle & John Aasen (Giants and Hollywood Movie Stars)
Schlitze (aka: Schlitzie, the most beloved Pinhead ever)
Angelo Rossitto (Dwarf Movie Star)
Harry & Daisy Earles aka: the Doll Family (Hollywood & Circus Midgets)
Frieda Pushkin (the Human Torso, Armless/Legless Wonder)
Julia Pastrana (Monkey Woman)
Lia Graf (Midget Entertainer from Germany)
Yvan Yvah (the Human Pin Cushion from France)
Joseph Schmidt (Smallest European Opera Singer)
Also:
Charles Tripp, Jo-Jo the Russian Dog Faced Man, Grace MacDaniels the Mule Faced Woman, Lionel the Lion Faced Man, Franz Drago the Singing/Acting Dwarf of European Burlesque Stages, Three Legged Francisco (Frank) Lentini, Giant Al Tomaini, Tom Thumb, Zip the What-Is-It, Bearded Lady Annie Jones, Betty-Lou Williams & her Parasitic Twin, Chang & Eng Bunker, the Aztec Children and many, many others.
"FREAKS UNCENSORED" has been listed by Facets Movie Lovers Video Guide (alongside Nanook of the North, The Sorrow and The Pity, Roger & Me, and Crumb) as ONE OF THE 100 BEST DOCUMENTARY FILMS OF ALL TIME!
AWARD WINNER: BEST DOCUMENTARY 1999 by "Videoscope Magazine"(The Phantom of the Movies). Hailed by film critics as The MOST COMPREHENSIVE AND MOST INFORMATIVE FILM ON THE HISTORY OF HUMAN ODDITIES EVER MADE!!!
Do not confuse FREAKS UNCENSORED with any made-for-television product! This is what the critics say about FREAKS UNCENSORED:
"Step Right Up Folks: See the Soul Beneath the Deformity...FREAKS UNCENSORED possesses the appeal of a well stuffed scrapbook...sprints through the history and lore of the unusual people...plenty of odd and malformed humanity...Remarkable film clips...compassionate..." -THE NEW YORK TIMES
"...Ari Roussimoff's neatly jaunty documentary...a world as fully fleshed as it is bizarre...A cornucopia of archival footage...an encyclopedic but breezy ride...a veritable visual menagerie... never feels exploitative...a warmth that lingers long after the disturbing spectacle of their bodies has faded..."-VILLAGE VOICE
"One of a kind" - NEW YORK DAILY NEWS "...Roussimoff has finally put things into perspective..." - NEW YORK PRESS
"...the definitive documentary on human oddities...a remarkably comprehensive look..." - VIDEO BUSINESS
"...Stunning...poignant...a respectful, mesmerizing homage...titillates, educates and mystifies...FREAKS UNCENSORED is all about flapping open the robe, inviting us to gaze unashamedly at the curiosities of the human condition" - VIDEOSCOPE MAGAZINE
"...The most fascinating collections of Freakaphelia you'll ever see...insightful...amazing archival film clips...invigorating... this movie hits a home run...exciting...boundariless thinking...unique collage concept..." - ROCTOBER MAGAZINE
"...uncompromising...Roussimoff's panoramic overview of this extraordinary subculture is one whose images will remain with viewers for years to come..." - OUTRE MAGAZINE
"...the definitive documentary about human physical oddities...astonishing amount of vintage freak film footage...an outstanding movie by anyone's standards..." - INTERNATIONAL TATTOO ART MAGAZINE
"...tackles the controversies head-on...Always compassionate...at times jarring and shocking...a panoramic mirror, reflecting an extraordinary world..." - THE BIG REEL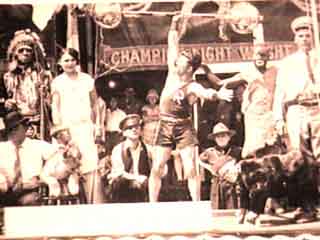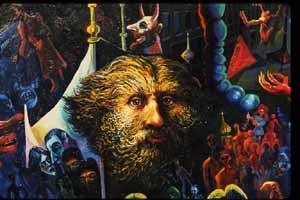 Packed with the rarest of film footage and photographic materials, cult director Ari Roussimoff brings you 100 minutes of unforgettable imagery. Featured is every manner of "freak" imaginable: See Legless Johnny Eck perform acrobatics! See Unthan The Armless Wonder deal cards and play the trumpet! See The Siamese Babies joined at the Head! See Schlitzie the famous lovable Pinhead doing a movie role! Learn the TRUE story of Julia Pastrana The Monkey Woman, and find out how and why her remains became a travelling carnival exhibit. Meet the enigmatic Jo-Jo the Dog Faced Man, and The Mule Faced Woman who mothered a handsome son. Witness The Hairiest, The Most Twisted, The Tallest, The Shortest, etc.,etc.,etc. All this and much more. In FREAKS UNCENSORED you will be treated to an intimate view of the weirdest assemblage of humans ever put together in one film.

Postal address

Bohemia Productions
PO Box 20183 NY, NY 10014

Electronic mail

General Information: vi@freaksuncensored.com
Sales:
Customer Support:
Webmaster: vi@freaksuncensored.com
Reviews: